Residential Canal Lot in Lehigh Acres, Florida
3421 56th St W, Lehigh Acres ..... Cash Price $8,000.00
or

Payment Plan: $1,000.00 Down, Plus $275.00 a month, for 36 months.
This is a gorgeous lot located in a wonderful area near Sunshine Blvd. and Cemetery Road.
There are nice homes on 56th St. W, yet still plenty of privacy.
This lot is just west of Lake Okeechobee and just east of Fort Myers.
A wonderful location to get the city life and still be close to boating and fishing.

Directions: I-75 to Exit 141 / Palm Beach Blvd. toward Labelle. (Right on) Orange River Blvd (Right on) Buckingham Rd (Left on) Cemetery Rd (Left on) Stratton Rd (Right on) 68th St (Right on) Unice Ave (Left on) 67th St (Right on) Queen Ave (Rright on) 59th St. W (Left on) Sally St (Right on) 56th St. W - the vacant building lot is on the left

at the canal.
3421 56th St W, Lehigh Acres
Beautiful Canal Property in Lehigh Acres, Florida

3421 56th St W, Lehigh Acres
Beauty & Value in a Perfect Location
3421 56th St W, Lehigh Acres
3421 56th St W, Lehigh Acres

Map view of lot location A Map shows canals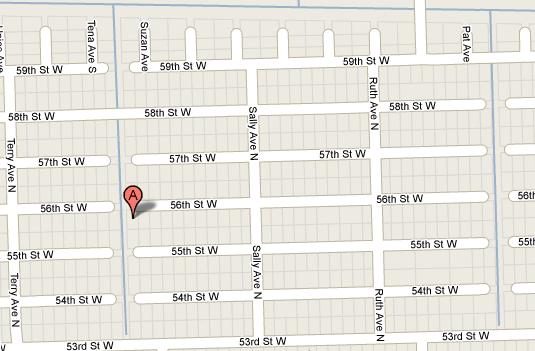 Lehigh Acres is a diverse community of approximately 80,000 residents. Just 12 miles from Fort Myers, Lehigh Acres boasts ponds, lakes and canals. Visitors can enjoy year-round freshwater fishing, golf, biking, tennis and walking.
The community is an expansive, pre-platted subdivision of approximately 61,000 acres.
<![if !supportLists]>
·
<![endif]>
minutes from Caloosahatchee River

<![if !supportLists]>· <![endif]>limitless opportunities for outdoor activities
<![if !supportLists]>· <![endif]>beautiful weather
Parcel 11-44-26-06-00053.0010


State: Florida
County: Lee
Location: 3421 56TH ST W Lehigh Acres, FL 33971
Size / Dimensions: 80' frontage x 136' deep
Area: .25 acres
Zoning: Residential
Legal Description: LEHIGH ACRES UNIT 6 BLK.53 PB 15 PG 60 LOT 1
Terrain: Treed, level
Accessibility: 56th St. W off of Sally Ave. N
Utilities: Electric
Annual Property Tax: Last recorded at $64.28

Past Sold Vacant lots:
11-44-26-06-00053.0110

3401 56TH ST W
LEHIGH ACRES, FL 33971

Non-Canal Lot $40,000.00

5/11/2005

11-44-26-10-00103.0010

3115 56TH ST W
LEHIGH ACRES, FL 33971

Corner Lot $81,500.00

8/8/2005

12-44-26-06-00055.0160

2810 56TH ST W
LEHIGH ACRES, FL 33971

Non-Canal Lot $54,000.00

8/15/2005

Golf Courses Just Minutes Away
If you chose the Payment Plan: $1,000.00 Down, Plus the Amount Financed: $9,900.00

Interest Rate: 0%

Duration: 36 months

Monthly Principal and Interest Payment: $275.00

These terms will be established through a "Land Sales Contract"

· Seller will transfer ownership to buyer via Special Warranty Deed when paid in full

· No loan qualification - no credit check

· No penalty for early payoff at any time

· Buyer can make higher payments if desired to pay down the principle balance

· Property taxes are paid and current
<![if !supportLineBreakNewLine]>
· Buyer agrees to keep taxes paid for property taxes each year.

· Property will be free and clear of outstanding liens and the buyer will receive a special warranty deed when payments are complete.

· You are buying the property as-is, I have never seen the lot.



If you prefer to pay Cash, the discounted price will be $8,000.00

<![endif]>
Interested Buyer Contact Seller: SuburbanLots@aol.com or Call or Text 609-703-4567
Seller will request name(s), address and email of buyer.

· Seller will email buyer a contract.

Pictures of LAND
Lot for sale high lighted in bold yellow
Street view of lot 3421 56th st w
Lot For Sale
House across the canal
Houses on the street
Distances from the Lehigh Acres FL property:
Fort Myers 8 miles
Southwest Florida International Airport 9 miles
Cape Coral 14 miles
Fort Meyers Beach 22 miles
Bonita Springs 23 miles
Punta Gorda and Sanibel Island 27 miles
Port Charlotte 33 miles
Naples 36 miles
St Petersburg 95 miles
Tampa 102 miles
Miami 112 miles
Orlando 118 miles
About Lee County:
Lee County was created in 1887. Incorporated in 1886, Fort Myers is the center of a popular tourist area in Southwest Florida and the seat of Lee County. It is located at the meeting point of the Gulf of Mexico and the Caloosahatchee River. Fort Myers was the frequent winter home of Thomas Edison, as well as Henry Ford. Lee County has been the host to several Major League Baseball teams for Spring Training. It is the spring home of the Boston Red Sox, as well as the Minnesota Twins.
Lee County is the sole county in the Cape Coral-Fort Myers Metropolitan Statistical Area.
Southwest Florida International Airport, in South Fort Myers, serves over 7.6 million passengers annually. Currently, the airport offers non-stop flights to two cities in Germany (Munich and Düsseldorf) and two in Canada (Montreal and Toronto), in addition to 35 domestic non-stop destinations. 21 airlines operate scheduled service to and from the airport, with Delta Air Lines serving a plurality of the airport's passengers.
Thanks for your interest.
I am not a real estate agent I own this property. I am an individual not a developer.
© Copyright 2018 SuburbanLots.com, All Rights Reserved